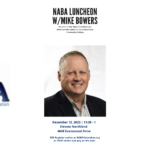 December Luncheon: Mike Bowers, Ohio Small Business Development Center
November 14th, 2023

Featured Cultural Group: The Native American Indian Center of Central Ohio (NAICCO)
November 20th, 2023
Learn about several opportunities coming your way!
December 6, 2023
from 11:00 AM – 1:30 PM
Event will be hosted by the City of Columbus Department of Recreation and Parks and CK Construction Group
December 11, 2023 from 11:00 AM – 1:30 PM
Event will be hosted by the Department of Public Utilities, Department of Recreation and Parks and Department of Finance and Management
Additional details and registration information for both events will be sent at a later date
To search the full list of City of Columbus bid opportunities visit:
https://columbusvendorservices.powerappsportals.com/
For instructions on registering as a vendor:
https://new.columbus.gov/Business-Development/Bids-Solicitations/Vendor-Resources
Are you a City of Columbus Certified Business or searching for a Certified Business? Completing the online application, finding clients and opportunities is now easier than ever!
Access the Diverse Business Directory online with key-word search capabilities. Find certified vendors ready to do business.
Quickly reference vendor information using the new enhanced vendor profile. These enhanced profiles provide vital details such as services, capabilities, references, past performance and more!
Search the online directory:
https://columbus.diversitycompliance.com/
The center of the Mayor's Office of Diversity and Inclusion is to build Columbus into Ohio's Equal Opportunity City by boldly collaborating with public and private partners to create equity, elevate opportunity and prosperity for all.
We wish to thank the partners that provide business tools, resources, education and networking opportunities for small, minority and women-owned businesses!