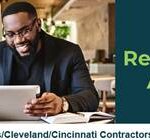 MCRC Orientation
November 20th, 2023
Information is now available for On The Job (OJT) Training, Incumbent Worker Training (IWT) and TechCred Program!
On-the-Job Training is a federally funded program that helps employers hire and train individuals for long-term employment. Get help building the workforce you need with On-the-Job Training!
For more information about
On-the-Job Training or for help recruiting skilled workers, contact your local OhioMeansJobs center. A representative from your local OhioMeansJobs Center can help you identify eligible individuals, set up a training plan and complete the minimal paperwork.
Employer Advantage (previously referred to as Incumbent Worker Training) Training Reimbursement Grant is a training reimbursement program that helps Franklin County Employers upskill their current employees with in-demand skills.
Interest Form:
https://forms.office.com/r/N8xtgcRD54
No matter your industry, technology is having an impact on the future of your business and the nature of your work. Ohio's TechCred program gives businesses the chance to upskill current or future employees to help them qualify for a better job in today's tech-infused economy.
Ohio's TechCred Program gives employers the chance to upskill current and future employees in today's tech-infused economy. Employers who submit successful applications will be reimbursed up to $2,000 per credential when current or prospective employees complete eligible technology-focused credentials.
TechCred will accept the next round of applications from November 1-30, 2023.
Learn more here: